The Stuff Straight Men Deal With On Dating Apps
One of the universal truths of online dating is that women have to put up with a lot of... stuff. I've been working in the industry for eight years and have grown increasingly embarrassed of being a man: we are responsible (but not accountable) for imposing hookup culture, sending inappropriate pictures, offensive messages, harassing messages, repetitive messages. We can occasionally be wrong even for sending no messages in the first place. We chase women young enough to be our daughters (granddaughters, sometimes), we don't read profiles, and generally waste women's time.
Not all men behave like this. As a matter of fact, most men are probably only guilty of being unimpressive or lazy writers: but first impressions matter and dejection is fast to kick in when hours of swiping feel unproductive. It's easy to notice all the creepy guys and inadvertently miss the great ones.
In spite of my many years in the industry, I don't date online: I would — I definitely would (maybe) — but I doubt my wife would be happy about it. I do from time to time install a bunch of the better known dating apps to see what (if anything) is new. An opportunity for one such refresher course presented itself last month when iris Project (publisher of EQ) reached out asking me to join their team: sheltered in our small New York City apartment at the beginning of the Covid-19 lockdown, I created new profiles and revived old ones on some mainstream dating apps. What I experienced that day on a handful of dating apps is what motivated me to join the Project and try (again) to fix dating.
While I know for a fact that women still have to endure the lion share of the collective pain felt by online daters, I also sympathize with the millions of decent, well-intentioned gentlemen who are genuinely trying to find someone to meet, fall in love with, and possibly grow old with. I've put together a comprehensive list of all the bull... – stuff, I meant to say stuff – that these fine men have to deal with.
Instagram "models"
Let's warm up with this fairly innocuous case. Instagram followers are a currency: "influencers" with sizable audiences can "collab" with brands to promote products in exchange for a fee or commission. Dating apps that allow displaying one's IG handle in the open are an opportunity for "models" to promote themselves: are they even single? Maybe. But dating isn't what they're here for.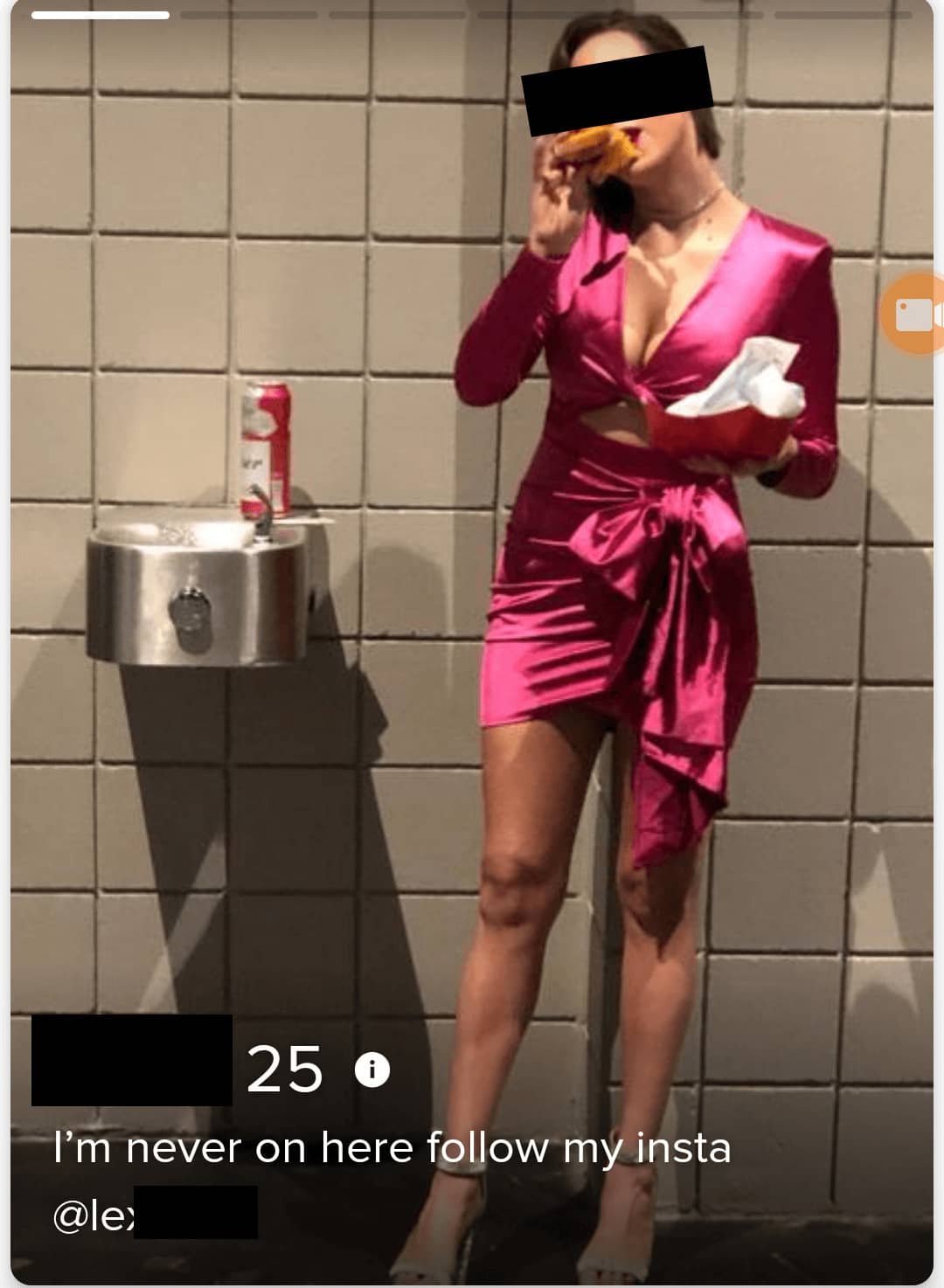 Sugar Babies
I met Brandon Wade, the founder and CEO of Seeking Arrangement, at a conference in Miami three years ago. We shared a few words and discussed some of the similarities (particularly technological ones) between mainstream online dating communities and the world of sugar dating.
I remember wondering what membership overlap there is between mainstream communities and that very particular Sugar Bowl. I am no longer wondering: it's possible that the difficult economic climate has caused a spike in the number of young women looking for financial stability in arrangements rather than happiness in relationships — whatever the reason, a couple of days' worth of swiping yielded plenty of examples of ladies looking for sugar on a very well known dating app.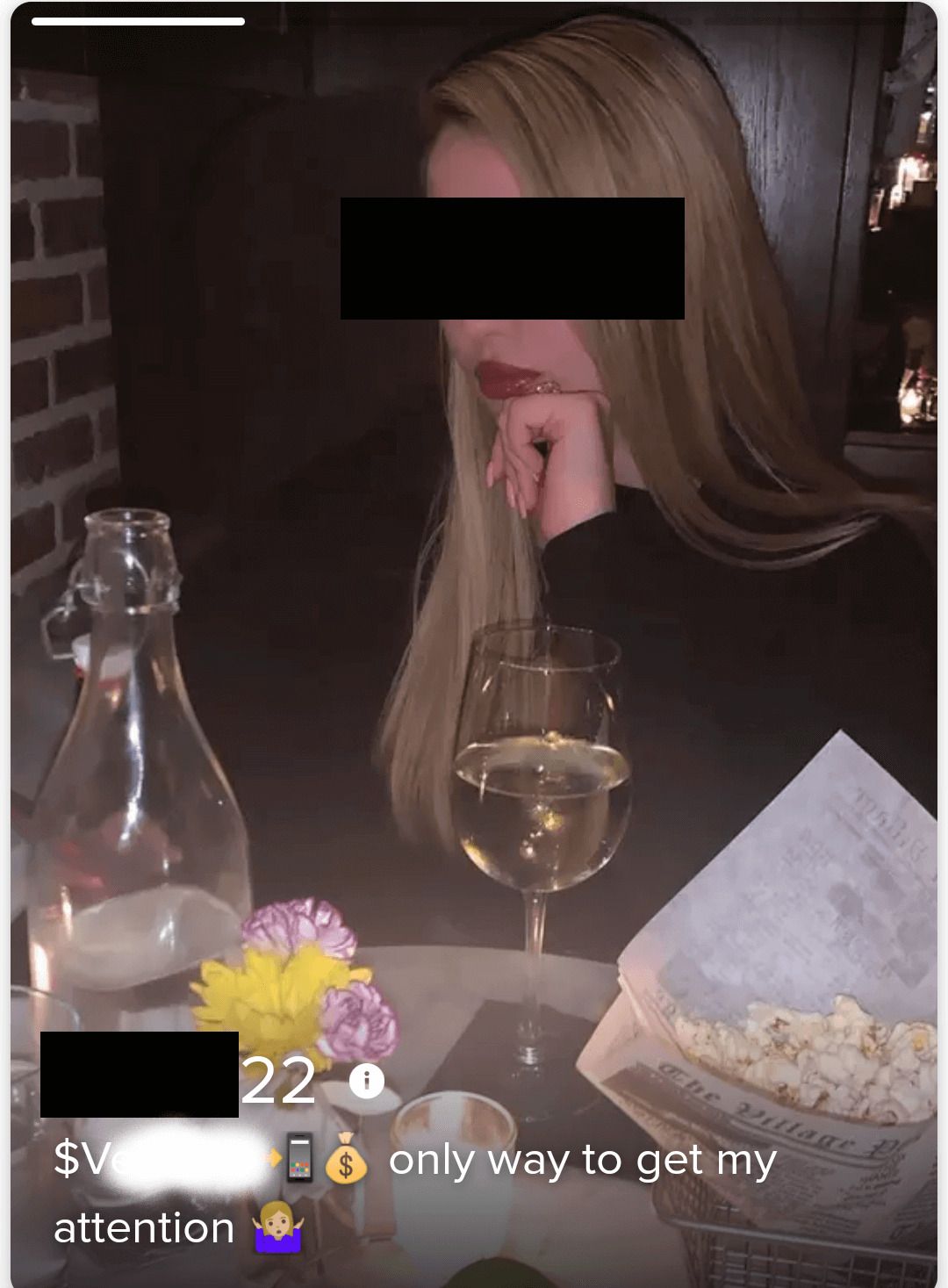 Green Card Hunters
New York City's iconographic status makes it a prime destination for those seeking asylum in the hearts (and occasionally wallets) of first-world residents. This has become especially obvious since a certain dating app made it free for members to change their swiping location to anywhere in the world.
There is nothing fundamentally wrong with this. I believe in the unattributed quote that "love knows no reason, no boundaries, no distance. It has a sole intention of bringing people together to a time called forever."
I just wish the lady shown below didn't limit her search to only American men: I hear Canada is a pretty cool place to live, too!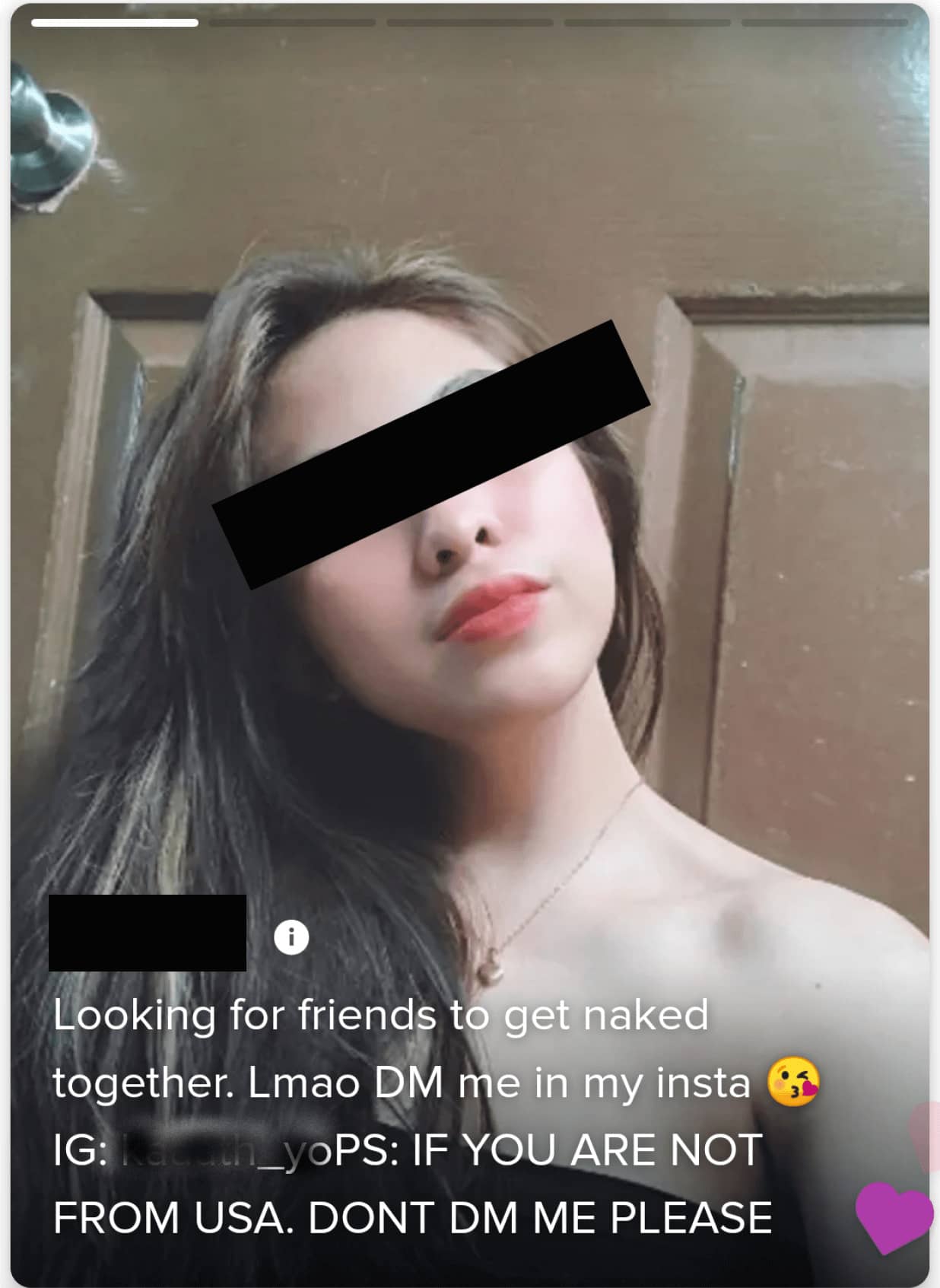 Plain Old Gold Diggers
Somebody once correctly pointed out to me that the oldest way to make money is to inherit it. In that case, this below would probably be the second oldest profession in the world.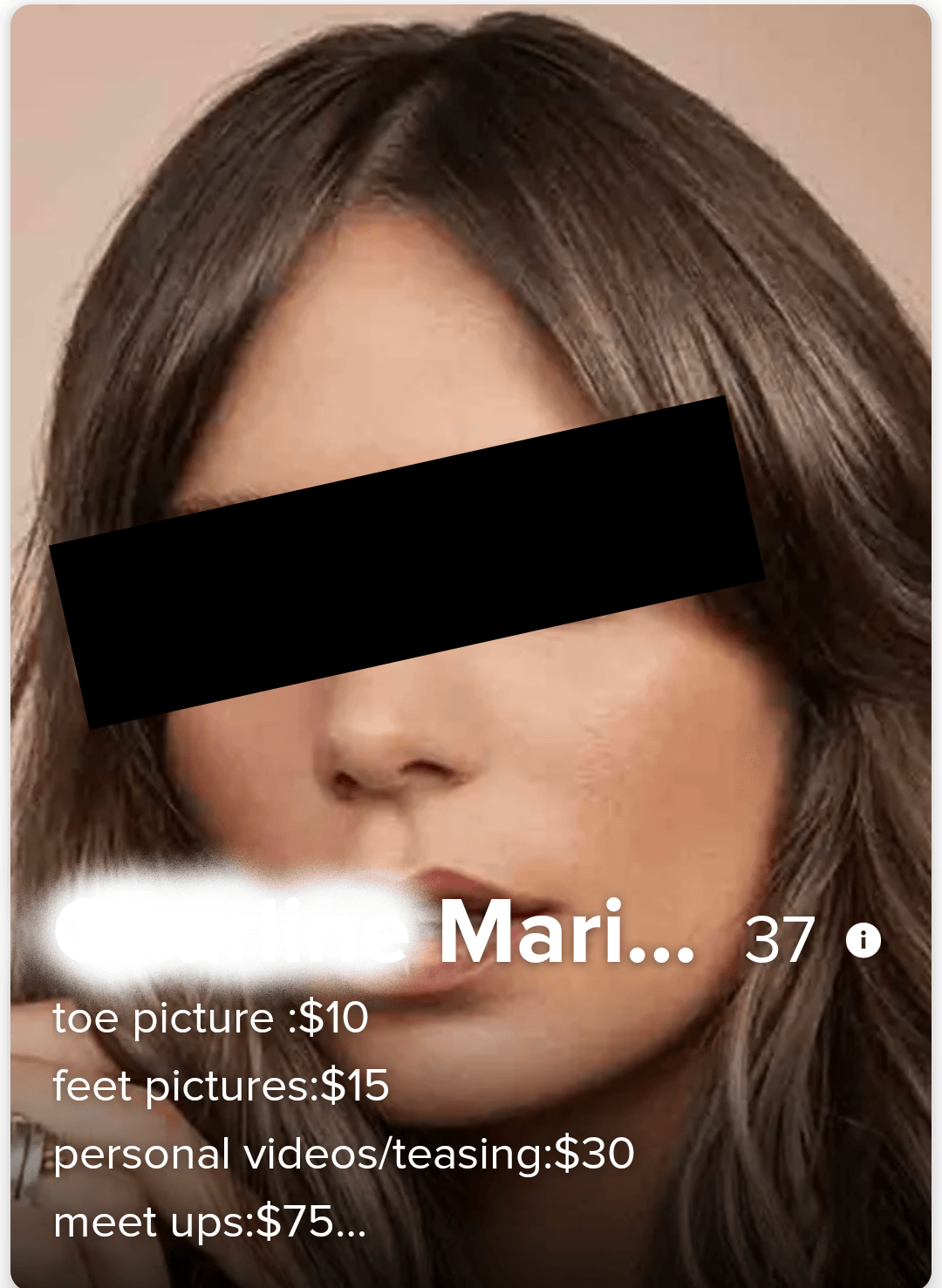 Snap Spam
Like every 40 year-old worthy of its name, I have no idea what goes on Snapchat, I don't really care, and even if I did care I wouldn't fully understand it. I did set up an account just to be sure and was able to confirm that I'm just too old for this stuff. I did, however, want to see with my own eyes why there appeared to be so many "bored" and "lonely" ladies looking to connect with "boys," "lads," and "fine dudes".
There are thousands of these fake profiles created by a group of marketers who promote various adult sites. I'm sorry for the unsuspecting women whose pictures were stolen off the internet to create these bogus accounts.
The setup is simple: affiliate marketers create thousands of hoax dating profiles that in turn point to fake Snapchat accounts: there, they promote various adult websites that pay a commission for referrals. I suppose these contemporary hawkers could at least be a little more creative with their Snapchat handles: they all (and I mean ALL!) end with a three-digit number.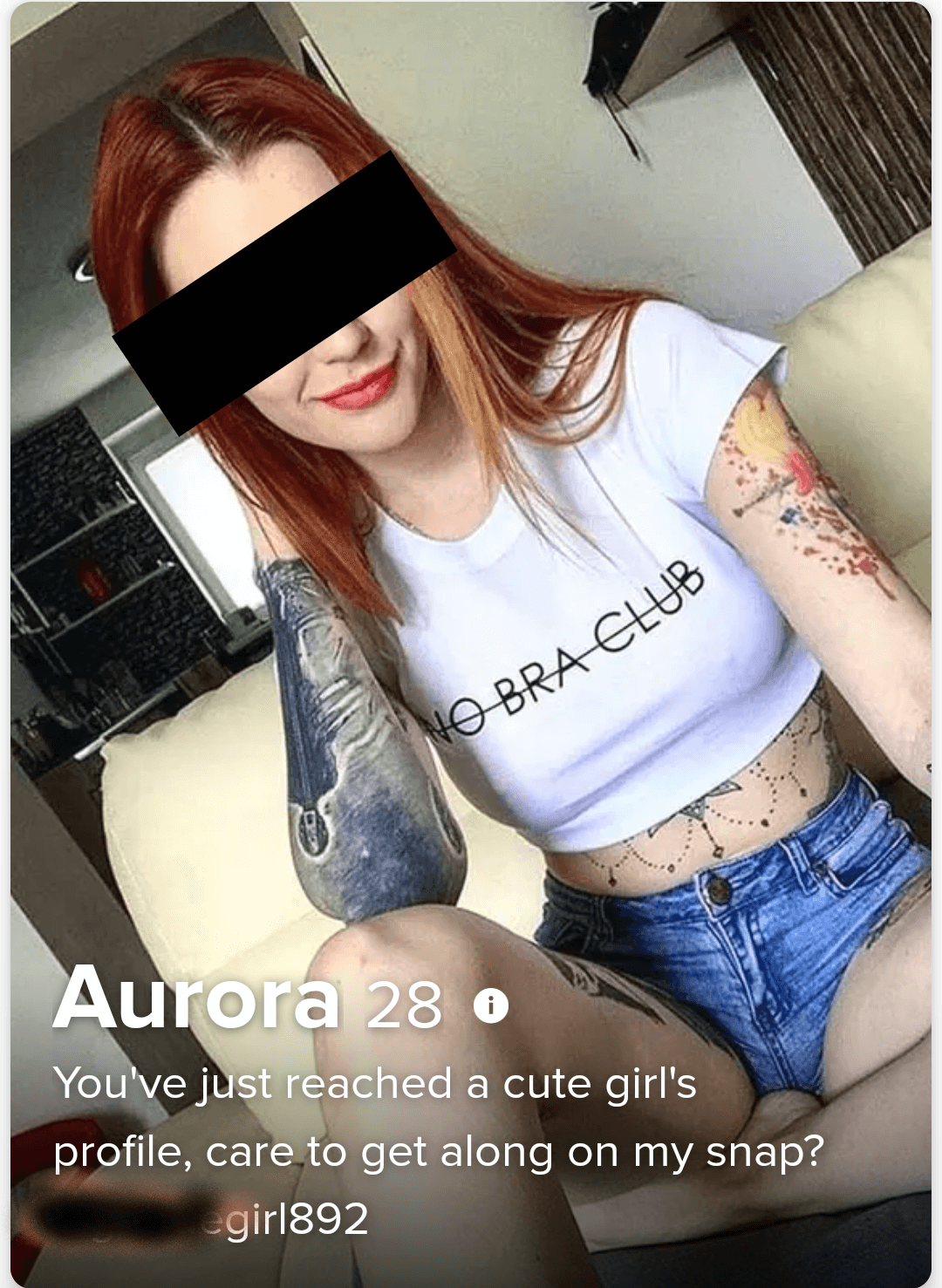 Erotic Content Creators #1
While fairly uncommon, it is not unusual for erotic content creators to advertise their "channels" on dating sites. While this is somewhat damaging to a digital dating community's integrity and effectiveness, the lack of deception makes it a fairly innocuous intrusion. Members that are very transparent in their self-interest do not cause much damage.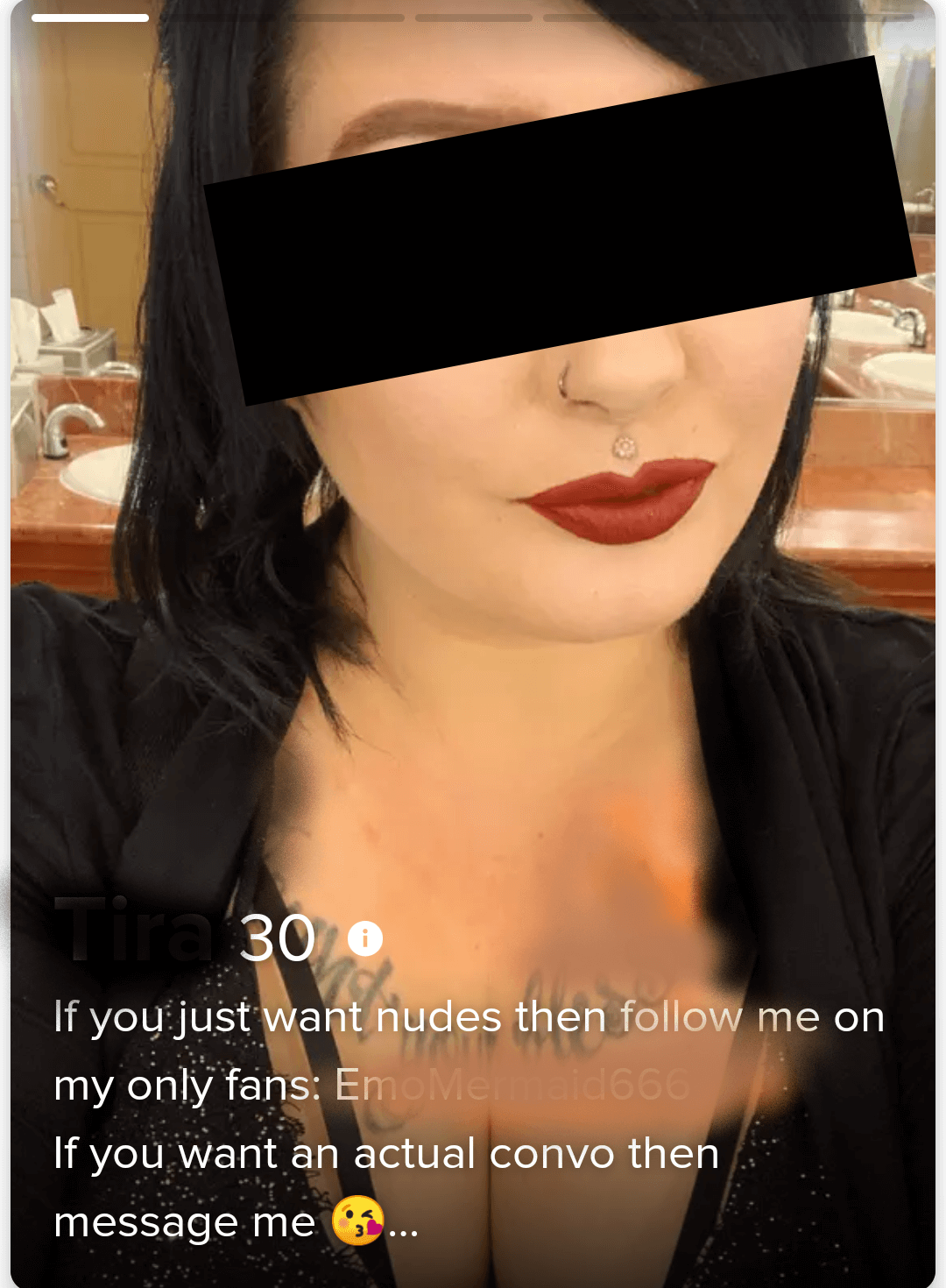 Erotic Content Creators #2
Nearly eight years in the dating industry and this one still managed to catch me by surprise.  Is it a new frontier of romance scams? Is it a marketing play by webcam models? Or are they really just looking for someone to star in their amateur productions? Let me know if you find out.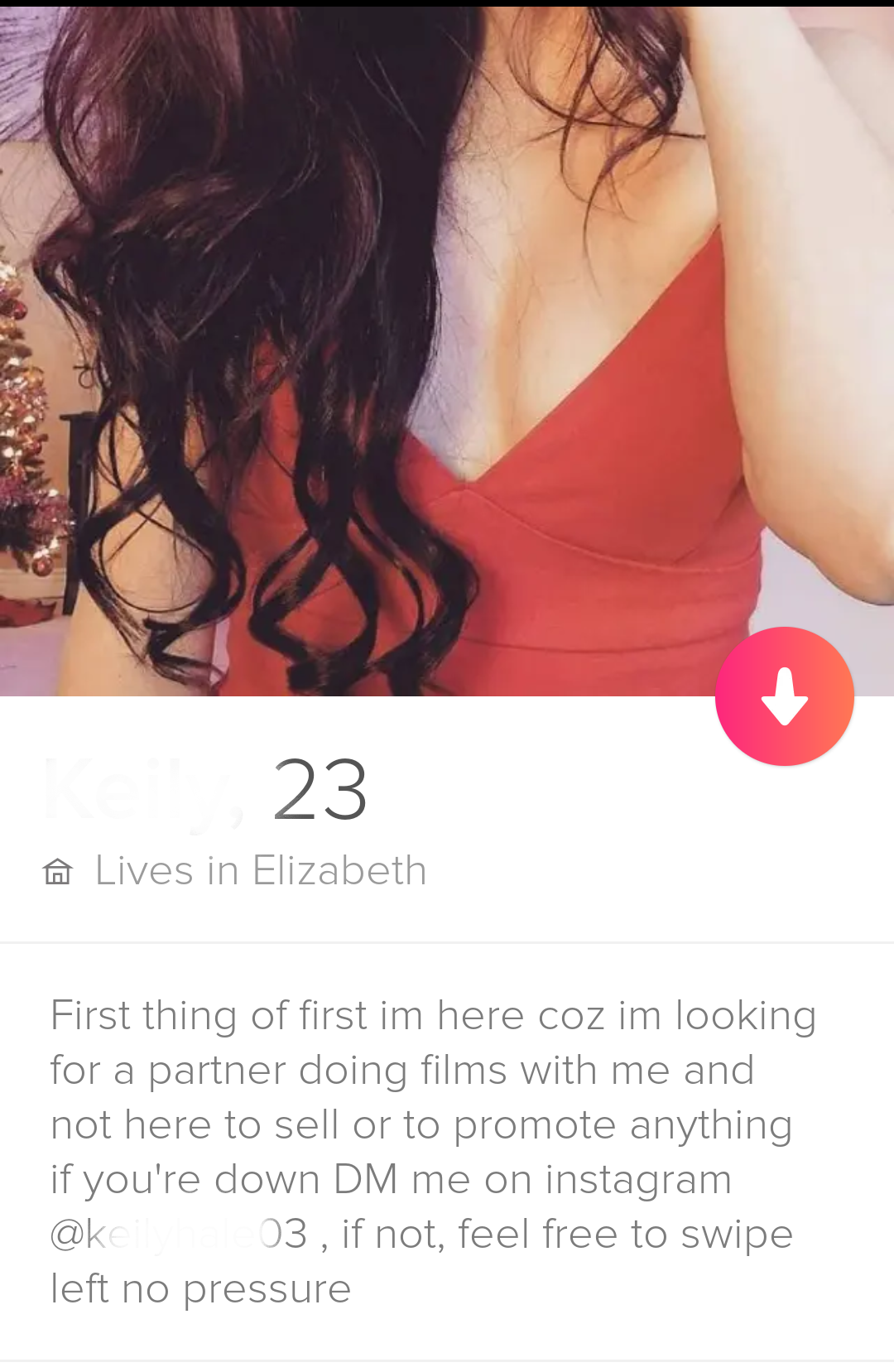 "Understanding, Honest, Caring, God-fearing Ladies"
Most romance scammers are known to operate out of Nigeria and Ghana: they tend to be part of fairly well-organized enterprises that attempt to create thousands of profiles per day on multiple dating apps, using stolen pictures and scripts to manufacture fake online identities to swindle digital daters with.
Most mainstream dating apps have gotten pretty good at shutting these profiles down, especially the obvious ones. In nearly a decade of working in the industry, I must have seen thousands of blocked profiles of "understanding, honest, caring, God-fearing ladies." When more than two of those words are used together in a sentence, you can be 99.9% sure that you are not dealing with a legitimate member.  
The distinctive broken English (seen in the examples below) used by West African scammers is often a smoking gun that helps dating apps weed out their fake profiles. But criminals can get creative and occasionally navigate their way through layers of technology and human moderation: one such example is below on the right — rather than steal pictures online to create a fake profile, these scammers must have used an accomplice to open an account using her actual image, thus earning the blue photo verification badge of one of the dating apps that I admire the most (and that I know is extremely diligent about policing its community).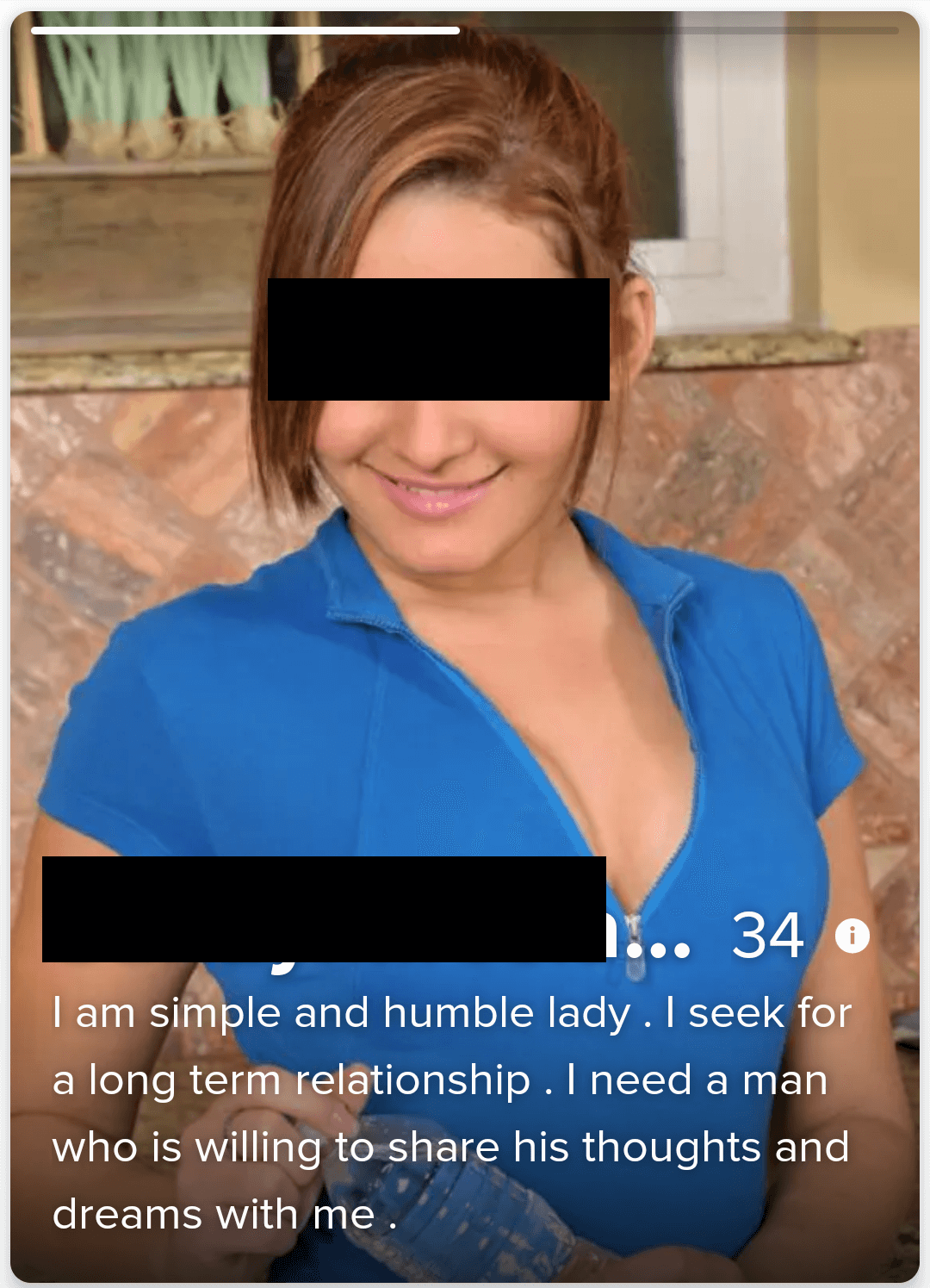 The biggest wastes of time in online dating always occur when deception is involved: fake profiles, catfishing, fraud. Deception: that's the stuff that makes digital dating complicated.
I did end up accepting that offer to join Iris Project. From day one, all users on its dating app have had to verify the authenticity of their profile pictures with a selfie: while this certainly does not solve every problem, it does make it very hard for Snap-Spammers and romance scammers to catfish and deceive members of the community. The rest we are leaving up to Artificial Intelligence to fix.